ZT Elite Series Mowers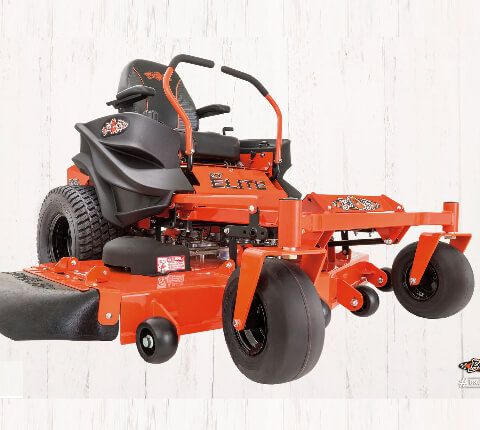 IMPROVED FROM THE FRAME UP.
Re-engineered to be an even better mower, there's virtually no part of our ZT Elite that hasn't been improved on. We've managed to make it stronger, smoother, more comfortable and more ergonomic. And even after adding all these improvements, we haven't sacrificed an ounce of power, strength or performance.
In fact, it's even 30 lbs. lighter—and yet our strongest ZT Elite ever! But the biggest engineering achievement wasn't how much we added and upgraded, but that we didn't add one bit to the price. We dare you to compare with any zero-turn mower in its price range and you'll find there is simply no better value for the residential home owner.
Prices Start At
$4,499
Subject to change. Financing, destination and setup charges not included.

Worry-Free Warranty
Two-year drive, spindle & clutch systems warranty.
Three-year warranty on Kawasaki® engines.
Specifications
Kawasaki® FR730
Kohler® KT745
Kohler® KT740
MOWER
Cutting Width
4800 - 48" ; 5400 - 54" ; 6000 - 60"
Cutting Height
1.5" - 4.5" with Deck Height Control System
Blades
4800 - 1/4" x 2 1/2" x 16 1/2", High Lift, Heat Treated
5400 - 1/4" x 2 1/2" x 18 3/4", High Lift, Heat Treated
6000 - 1/4" x 2 1/2" x 20 1/2", High Lift, Heat Treated
Lift and Height Adjustment
Instant Lift Electronic Actuator
Manual Lift Optional: Deck Dial
Blade Belt
Single V-Belt Spring Tension
Anti-Scalp Rollers
4800 - 4 Total (2 Front, 2 Rear)
5400 - 4 Total (2 Front, 2 Rear)
6000 - 6 Total (4 Front, 2 Rear)
Deck Flotation
Floats On Four 1/4" Deck Hangers
Deck Thickness
3/16" Thick Solid Steel
ENGINE
| | |
| --- | --- |
| Gross Horsepower/cc | 726cc Air-Cooled Kawasaki FR730V |
| Cylinders | 90 Degree V-Twin |
| Displacement | 726 cc |
| Maximum Torque | 40 ft. lbs. @ 2,600 RPM |
| Fuel Requirement | Unleaded Gasoline (87 Octane or higher) |
| Fuel Capacity | 6.5 Gallons |
| Fuel Filter | Replaceable In-Line Filter |
| Cooling System | Air-Cooled |
| Ignition | Electronic |
| Starter | 12 Volt |
| Charging System | 20 amp |
DRIVE SYSTEM
| | |
| --- | --- |
| Transmission | 3100 Hydro-Gear® 10cc Integrated Transaxle |
| Pump Drive | Integrated Axial Piston Pump & Motor w/Gear Reduction |
| Wheel Drive | Integrated with Commercial Grade Gear Reduction |
| Hydrostatic System Oil | 20W50 Motor Oil |
| Hydraulic Filter | 25 Micron, Replaceable Spin-On Type, 1 Per Axle |
| Pumps (2) | 10cc Pump and Motor Integrated In One Unit |
| Hydraulic Coolers (2) | 7" Cooling Fan; One per unit |
DIMENSIONS
| | |
| --- | --- |
| Weight | 4800 - 788 lbs. ; 5400 - 823 lbs. ; 6000 - 841 lbs. |
| Overall Height | 46" |
| Overall Width | 4800 - 55" / 62" ; 5400 - 58" / 67" ; 6000 - 64" / 74" |
| Overall Length | 74 1/2" |
| Tire to Tire Width | 46" |
| Tires - Front | 13 x 6.5 - 6 Smooth Tread |
| Tires - Rear | 20 x 10 - 10 Turf Tread |
| Steering | Dual Level Steering, Independent Control |
| Turning Radius | Zero Turn - Zero Degrees, Turns Within Unit Length |
| Ground Speed (forward) | Up To 7 mph |
| Parking Brake | Internal Parking Brake |